Yeah yeah, so I'm going WAY out of order here.  I'll get to the cause of all this later.  In the meantime, here's now you take down a wall:
1) Find friends that know what they're doing.  Buy them beer.
2) Find a wall you don't like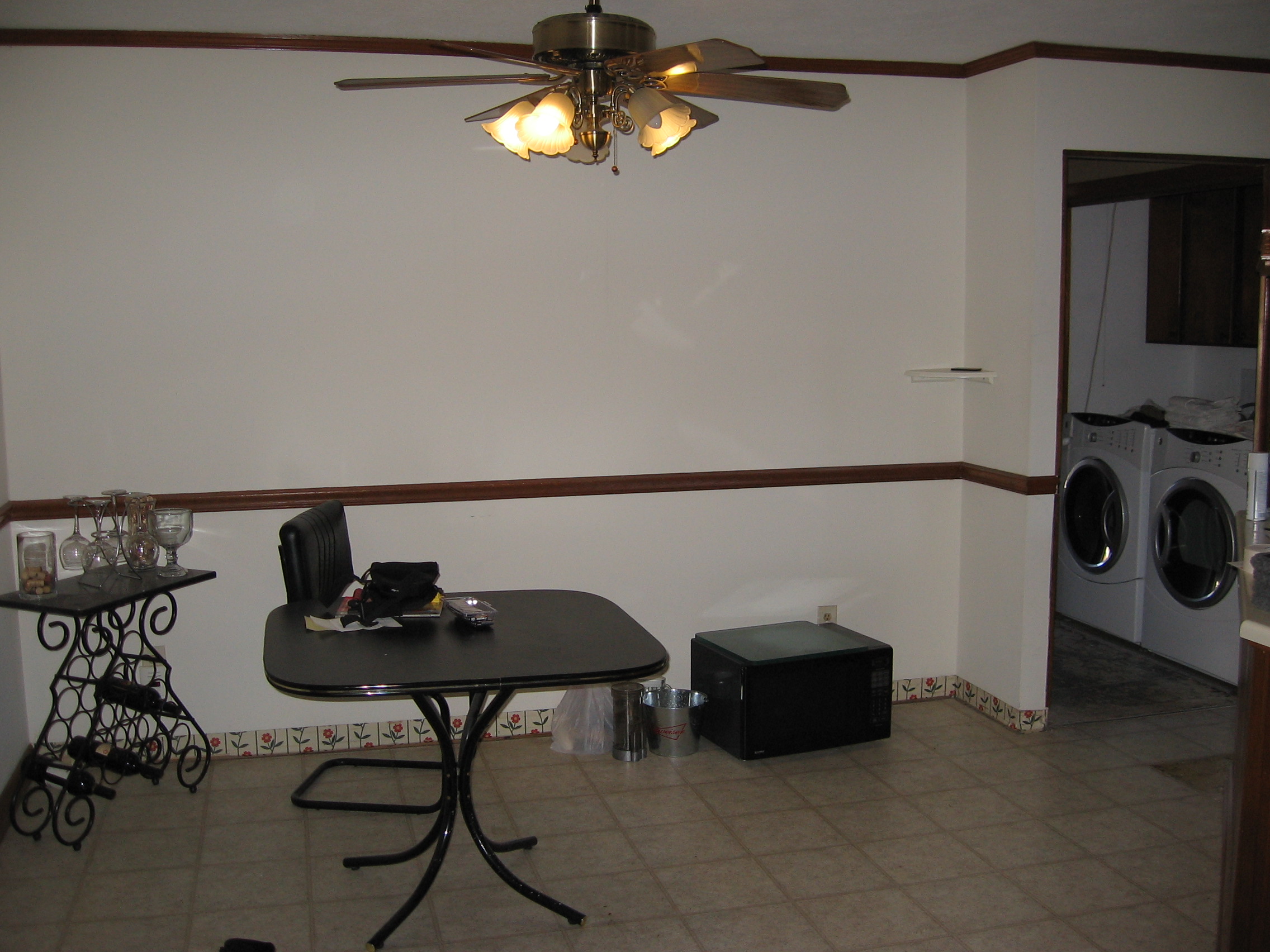 3) Take out drywall!  That part is fun.  We only took it all off one side so we'd have less finish work.
This is not a load bearing wall.  So in this case we could just slap up a new opening, we didn't really have to support anything (although we kinda did here, just in case the ceiling wanted to 'settle' and crack)
4) Carefully remove drywall from the other side of the wall.  Again, we didn't want to have to do twice the finish work, so just the opening was removed on the other side, not clear back to the next set of studs like we did on the side you see here.
5) Drywall, mud, sand, mud, sand, mud, sand, mud, sand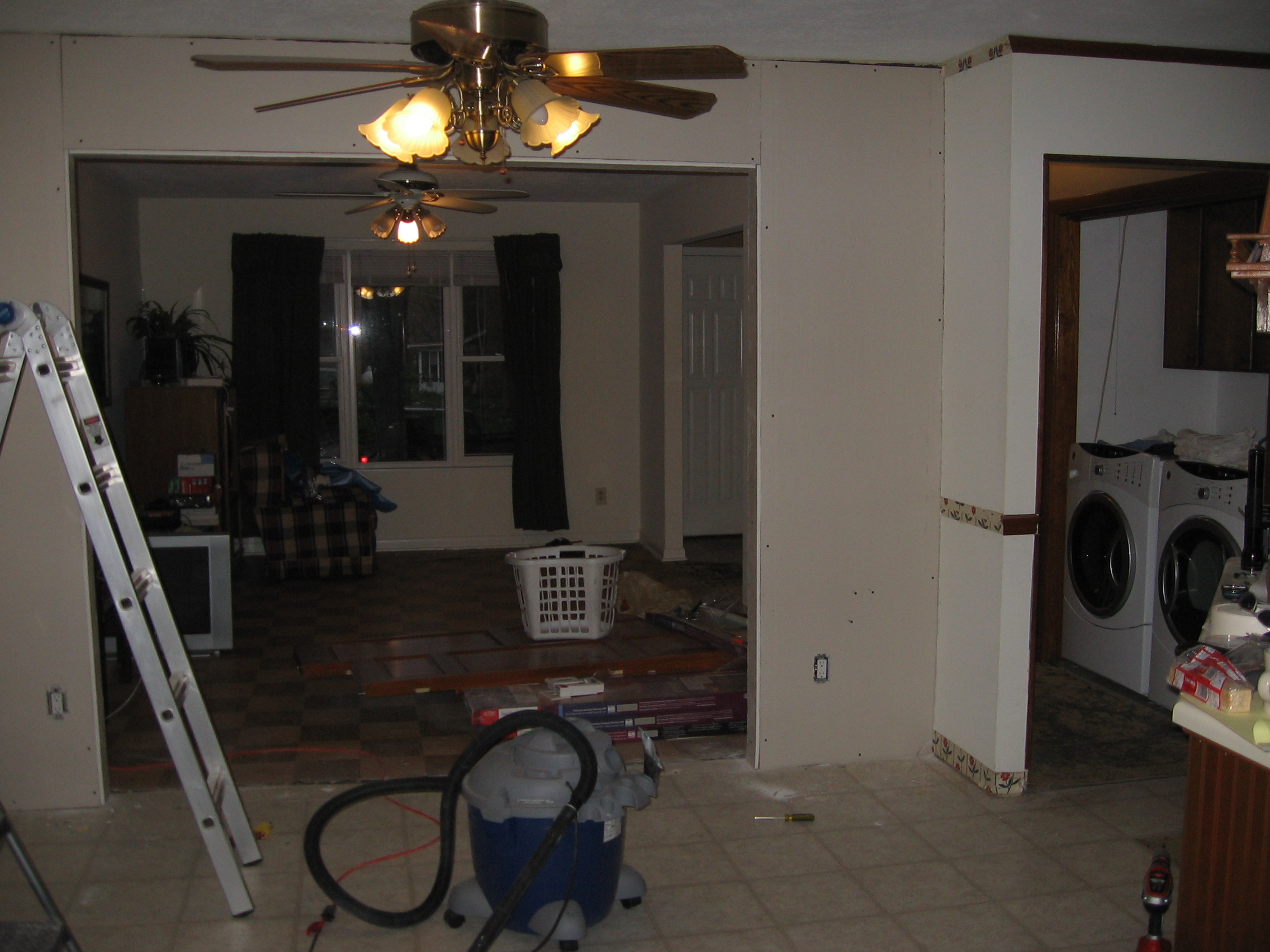 Isn't that wall paper awesome?  Yes, big flowers.  That's not a border, that what the whole wall looks like (under the paint)
6)  Find friends that like to paint.  Buy them beer.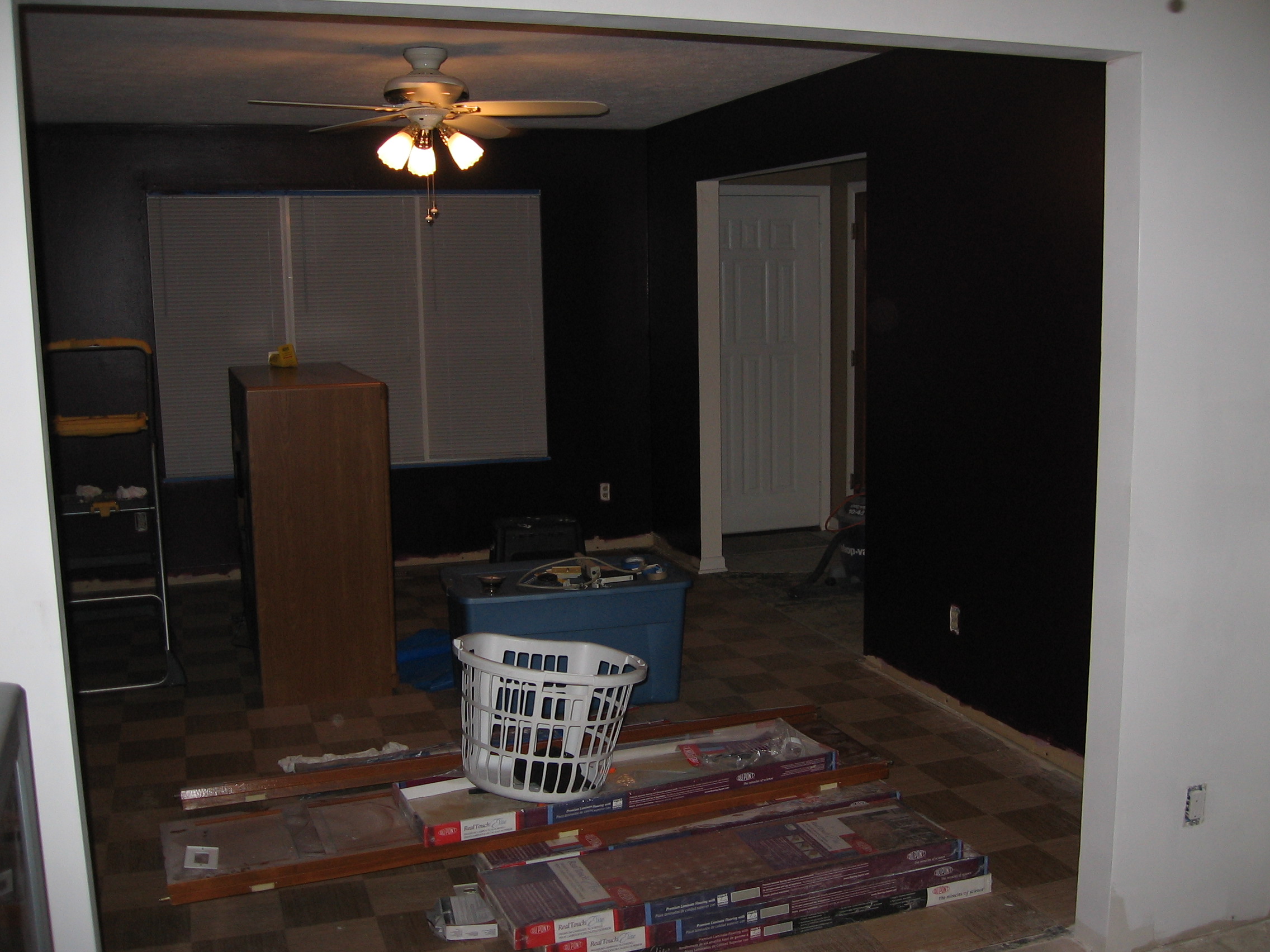 Six easy steps.  Nothing to it. :D  For your reference – don't try to paint a dark red.  It's…. difficult.  Took tinted primer and 4 coats to cover it.  The first two coats were light, probably could have done it in three, but it took awhile to learn the trick 😀
Floor & baseboards are next…. then it's on to the kitchen.  Or maybe the bathrooms first.  Yeah, bathrooms first.  Stupid Home Depot – I registered for one of their tile 'clinics' last Saturday.  Show up and no employees even seem to know where the class is – bad sign.  So we finally find the place and stand around for 15 minutes until somebody says "I don't think we have the manpower for the class today"  Ok, so why did I register?  You couldn't make sure you had enough people or at least call/email and let me know you weren't going to do it?  Jerks.  And at noon on a Saturday they had one poor girl trying to cover the whole paint department.  So asked some guy if he could help just grab the paint she needed and she'd mix/shake/whatever.  He came up with some lame excuse like "I don't know where anything is here" and walked off.  Lazy shit.  I know where most of the crap is in that area, and I don't even work there!  To top it all off, they only had their "U-Scan" lanes open… at noon on a Saturday!! Ever tried to swipe an 8′ 2×4 across a U-Scan?  Stupid Home Depot.